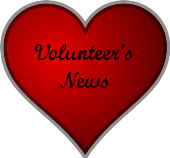 Central Carolina Hospital Auxiliary has been a vital part of the Hospital since 1965.
Auxiliary Purpose: to render support and services to Central Carolina Hospital patients, visitors, auxiliary, hospital staff, and the community in ways approved by the Auxiliary Governing Board and the Hospital Administration, and to provide scholarships for medically related studies to qualified students.
Auxiliary Mission: assisting to improve healthcare for the community and support the stated mission of Central Carolina Hospital, Healthcare with a hometown touch.
Auxiliary Motto: "Volunteers Take Time to Care".
Donations and Proceeds:  from the Gift shop and Auxiliary sponsored sales go toward helping fund special projects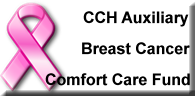 of the Auxiliary to the benefit of hospital patients and healthcare in the community. We are a 501(c)3 non-profit organization governed by a Board of Directors.
Auxiliary Volunteers:  assist in many areas of the hospital, as virtual volunteers, as pastoral care volunteers or in the Auxiliary This-n-That Gift shop.  Volunteering is truly a gift from the heart.  CCH Director of Volunteer services will be happy to assist you in becoming a virtual or in house Volunteer as will the CCH Auxiliary President in answering any questions you may have regarding the many needs of the patients fulfilled by the Auxiliary and special projects of the Auxiliary.
If you would like to learn more about Auxiliary Volunteers and how to help Central Carolina Hospital Auxiliary contact us via our website contact page.
Central Carolina Hospital Auxiliary Get-Away Garden
Every day hospital volunteers see patients, families, visitors, and staff at the hospital that could use a short break or get-away time from the hospital environment just to relax and revitalize.  As a result, the Auxiliary built a Get-Away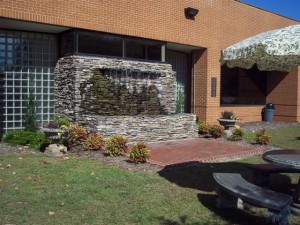 Garden with gazebo and waterfall fountain providing an ideal place for an outside break.
The gazebo was erected in May of 2006; our goal is for more outdoor equipment, refreshing landscaping, engraved bricks for the waterfall fountain patio and gazebo path to complete the setting.
Become a "Waterfall Patio Sponsor" when you purchase an engraved brick for $50 your personalized engraved brick will be placed in the patio in front of the Get-Away Garden Waterfall.  What a great way to remember a birthday, anniversary, pay tribute to someone and remember someone special.  By purchasing an engraved brick you're are supporting CCH Auxiliary and its projects.  For more information contact us via our website contact page.
Download order form "Waterfall Patio Sponsor".